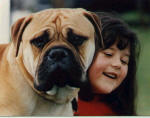 BullmastiffInfo.org: Tells us about the origination of your kennel. What was the driving factor that got you involved with the Bullmastiff Breed?
Bullpower: My husband purchased our first Bullmastiff bitch "jackie" who won my heart. She was so good with my lovely house cats and gentle with kids but she was also a good guardian of our home and us. We started to show her and I got hooked on the show scene and I am still exhibiting now.
BullmastiffInfo.org: Some kennels are striving to create their own bloodline. Is this one of your goals as well? What is involved with creating such a legacy as your own bloodline?
Bullpower: We have used the best bloodlines available here in Australia and also imported dogs to set a type that we feel is the Bullpower type. Our goals are to produce excellent temperaments and good typie puppies.
Our commitment to our dogs is second to none and the legacy we would hope to leave would be dogs with magic temperaments who are also typical of the breed.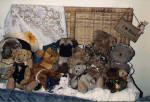 BullmastiffInfo.org: In looking through your photos of Bullmastiffs, I have to say that their physical structure is quite impressive. Standing still, they still look incredibly agile and nicely balanced. One of the things that are most noticeable about Bullmastiffs from different kennels is that some kennels tend to have "softer" looking Bullmastiffs that are nowhere near as athletic looking. While others, like yours, tend to look like well-toned athletes. What do you attribute for this extreme difference in body shapes between kennels?
Bullpower: This, I believe, is in the bloodlines one uses. Some Bullmastiffs have natural athletic builds, which we have been careful, over the years to only use athletic type dogs and bitches when breeding our litters as this is one feature we pride ourselves on having - Athletic. Sound, Free Moving, animals in Top Condition.
When people meet our dogs they say that our dogs are so athletic, which seems to be a bonus for us. This is part of the Bullpower type we are breeding for.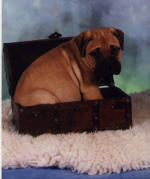 BullmastiffInfo.org: "Typie" is a common term used by Bullmastiff Breeders to describe a specific shape of the Bullmastiff head and/or body. Most Bullmastiff owners unfamiliar with the professional circuit are not clear as to what this terminology represents. Would you describe in layman's terms what "typie" means in definition to the Bullmastiff's physical attributes?
Bullpower: The Bullmastiff must be square, viewed from every angle, in both body and head. As there was 2 dogs used to produce the Bullmastiff we can get dogs who resemble both breeds or either or. As these 2 breeds are the English Mastiff and the British Bulldog, one can get a mastiff type or a bulldoggy type, ones aims for a happy medium between the two types for a square headed, square bodied dog.
BullmastiffInfo.org: You have been breeding Bullmastiffs for many years, has it gotten easier? Specifically what do you consider to be the most difficult part about breeding Bullmastiffs?
Bullpower: No it never gets easier breeding, one just learns more as time goes on.
The most difficult part I would think for us is will the mating give us what we expect, then the waiting to see if it does can be heartbreaking if it does not work out as one would have expected. Of course you get the odd surprise when you least expect it, a magic puppy crops up from one litter you would not have expected something so special from.
BullmastiffInfo.org: What do you consider to be the most difficult part about participating in the professional circuit in regards to conformation and/or agility?
Bulpower: I have not found any difficulty in competing or showing our dogs at all.
BullmastiffInfo.org: What has been the most embarrassing or funniest incident that has happened with you and your Bullmastiff at a Dog Show?
Bullpower: It was a beautiful morning, our picnic table was set, the umbrella covering a well prepared morning meal for ourselves and our dog friends. Waldo our robust male bullmastiff, securely chained underneath our table, soaking in the sunlight was viewing the dog show from our hilltop position and naturally guarding. When suddenly someone cried "loose dog" and to our amazement Waldo leapt like a cat, dragging the table and umbrella down the hillside, fastening his huge jaws around the dog, holding him immovable and of course unharmed.
BullmastiffInfo.org: When viewing the Bullmastiffs in the show ring, the handler will "stack" the Bullmastiff for the judge. This seems to be a fairly uncomfortable position for a Bullmastiff to hold for any length of time, as the audience will typically see the hindquarters shake after a few minutes on some of the Bullmastiffs. However, it seems necessary for the judge's viewing. What is "stacking" and the purpose behind positioning a Bullmastiff in this manner?
Bullpower: Stacking is to show off your dog and to show his /her correct proportions to the judge, some are trained to stay for a while in this position. One can hide lots of faults when stacking and thus show the dog off to look much nicer than he/she is.
BullmastiffInfo.org: Showing Bullmastiffs requires quite a bit of traveling. Do you have any safety tips for Bullmastiff owners when traveling with their Bullmastiff over long distances?
Bullpower: The main thing when traveling is to have water on hand. We freeze water at home and take this in 2 and 5 liter containers so they always have fresh clean water available.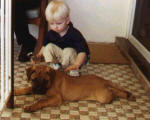 BullmastiffInfo.org: What advice would you give novice Bullmastiff owners that would like to start showing their Bullmastiff? Is it possible to start showing a Bullmastiff when they are already an adult and have never been exposed to a show ring? Or should the rule be to start when the Bullmastiff is still a puppy?
Bullpower: I believe the Bullmastiff can be shown at any age, preferably as a baby puppy for socializing in the ring, but I have shown and titled many older dogs myself with no trouble in the ring.
BullmastiffInfo.org: As with any other canine breed, the Bullmastiff is known to have a variety of health problems. When these problems arise, the adopting family is left with the cost of treating these health problems. Should the Bullmastiff Breeder they purchased the Bullmastiff from bear any responsibility as well? Or is this something that the Bullmastiff puppy buyer should already be aware that this is a "side effect" of owning a Bullmastiff and it will be their full responsibility to deal with any health issues that may arise?
Bullpower: If one breeds sound animals there should not be many health problems. It really depends on the individual animal. And if something goes wrong with one of ours we discuss it with the owner and our vet. We then come to an agreement to suit all parties.
BullmastiffInfo.org: What future would you like to see happen with the Bullmastiff breed in general? Do you think it this future is reachable?
Bullpower: To see more athletic, sound Bullmastiffs around with healthy minds and healthy bodies with excellent temperaments who are always good with kids.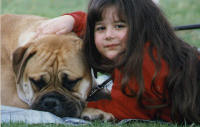 BullmastiffInfo.org: BullmastiffInfo.org would like to personally thank Bullpower Bullmastiffs for taking the time to share their thoughts and experience with our readers! If you would like more information about Bullpower Bullmastiffs from Christine Butler, contact them at:
Bullpower Bullmastiffs
Breeding Bullmastiffs for over 18 years
Breeder Name(s):
Christine Butler
Albion Park Rail NSW Australia
Website: www.bullpower.com.au
e-mail bullpower@bigpond.com
61 0242570287