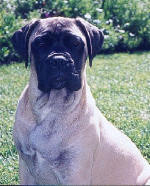 BullmastiffInfo.org: Tells us about the origination of your kennel. What was the driving factor that got you involved with the Bullmastiff Breed?
Wild West: In 1985, my husband and I purchased our first home. He said it is just a house, not a home without a dog. So I said, "Let's go to the animal shelter." He said, "No, I want a Bullmastiff" I said, "A what?". So he explained to me that he knew a guy in school who had had one and he loved that dog. So the day our escrow closed we opened the paper to the ad section and to our surprise there was an ad for a 3 year old female Bullmastiff. So Brian called and we went to see her. The people lived only 1 mile from our new house! I was so scared of her! She looked ferocious! She turned out to be the most loving wonderful companion! She had hip dysplasia so we had her spayed.
We bought our first show female from Amelia Lindley, Lindley's Bullmastiffs in 1986, and our first show male from Tom & Linda Hill, Tomlyn's Bullmastiffs, just a couple of months later. Moreta and Rex were our pride and joy.
BullmastiffInfo.org: Some kennels are striving to create their own bloodline. Is this one of your goals as well? What is involved with creating such a legacy as your own bloodline?
Wild West: When I began in this breed 17 years ago, I was floundering. There just was not an information source for new people. I grasped what was available and went forward. I completely started over 7 years ago, after losing 4 dogs to gastric torsion. That female developed a horribly deformed bite, so she became one of my public education dogs and we again started over a year later with a gorgeous red brindle male, (CH) Keeper's Midnite Marauder, "MacGregor". I was able to purchase CH. Guardman's Petra of Lone Pine, who became our new foundation bitch. Petra & Mac produced two litters for us. Mac is retired now and my stud dog is my CH. Wild West Arrow of Lone Pine, "Richmond", who is Petra's son from her first litter.
My goal was healthy mid-sized Bullmastiffs. I have achieved that and am moving in a very forward motion. We now have 3 generations of Bullmastiffs, with NO health problems, great joint conformity, incredible temperaments, and superb immune systems. Our Bully's do not receive any vaccinations past their initial puppy shot schedule (featured on our web site). If any of our dogs do not pass their health exams they are not bred. They are spayed or neutered and then placed in very special family homes.
What is involved in creating this legacy? Pain, sweat and tears. Pain in losing a cherished female just after she has given birth, sweat in keeping those whelps alive and healthy and tears in seeing them leave for their new homes. Much more goes into the creating of a legacy. The daily care, exercise, cleaning, grooming and nurturing takes time and energy!
BullmastiffInfo.org: Didn't you have a Bullmastiff featured in a national commercial some time ago?
Wild West: Yes that was my Mac, CH. Keeper's Midnite Marauder, bred by Tamara Cady, and owned by Brian & Tracy Ferrick. Mac is now 6 years old. He was the first BRINDLE Bullmastiff to appear in a moving advertisement. He was in the Honda Odyssey commercial in 1998. He was trained by world famous animal trainer, Karl Lewis Miller. That commercial aired in September & October 1998 and then again during the SUPER BOWL in January 1999! I was sooo proud of Mac!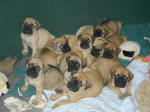 BullmastiffInfo.org: You are one of a small percentage of breeders who sell their "companion/pet quality" Bullmastiffs under contract. Please describe why your kennel has decided to incorporate contracts into your breeding program.
Wild West: A contract is an agreement between 2 or more people. It is basically thoughts voiced so that down the road there are no misunderstandings between those people.
I truly feel that by utilizing my contract, I am protecting the dog as much as possible. I don't have the privilege of meeting all of my puppy owners in person and most people are more than willing to sign a reasonable contract.
Our show prospect pups are not sold. They are placed with people I know and trust in the breed or showing community. I cannot keep 3-4 pups from every litter, so I have the show pups on co-ownership situations. Those people, including my mother, also signed contracts (my dad didn't understand this one, but my mom sure did and she was NOT offended in the least!)
If a breeder does not offer a contract I would certainly wonder why.
BullmastiffInfo.org: Some breeders argue that contracts are rarely enforceable and therefore, are not worth the effort of offering to puppy buyers. Have you found this to be true?
Wild West: What I do know is that if someone has a problem with any part of my contract, then they DON'T get a pup from me! Even a companion animal deserves protection! A contract is a legal binding agreement that will stand up in court. Some clauses may be thrown out as "not pertinent", such as one of my clauses states that the Buyer must supply photos of the dog at 6 months, 12 months and 24 months. A judge may say this is ridiculous and throw it out, BUT most states have laws against cruelty to animals, so my clause that None of my dogs may ride in the back of a pick up truck or flat-bed truck without the proper legal restraints, would hold up in court!
I only want the best for my pups. I help those babies take their first breath, and I spend 10 weeks with those babies. I certainly do not want to get a call one day saying that their life has ended due to the irresponsibility of poor ownership!
I have NEVER had any of my pup buyers refuse to sign ANY clause in my contracts! In fact I have a future pup owner, who is a lawyer. He said one of the deciding factors of him coming to see me was my contract and that I was not asking for anything out of the ordinary, only that I really cared what happens to my dogs!
BullmastiffInfo.org: Contracts can vary greatly between different kennels and even different quality Bullmastiffs. What advice do you have to give families when comparing contracts between different kennels?
Wild West: If you don't like the contract, DON'T BUY THE DOG!!! If a breeder is REQUIRING you to breed and show the dog and all you want is a family companion, then DON'T sign the contract!!! Do NOT impulse buy, just because that pup is the only one available at that moment, doesn't mean that he is right for you. You need to feel comfortable with the breeder you choose. Sometimes it takes a year or more to find the right breeder and pup that will match your situation. Your breeder will be your mentor throughout the life of your dog.
BullmastiffInfo.org: As with many other kennels, you also offer "Stud Service". Please describe what this means.
Wild West: A stud service is what the male dog can offer to qualified females to create better quality offspring. Some kennels have their own males and do not seek "outside" stud services. Others may have females to closely bred to use their own stud dog and therefore have to seek a proper mate for their girls. Yet others are either just getting started or have no desire to keep a male on their premises.
BullmastiffInfo.org: Should any family with a male Bullmastiff be able to offer "Stud Service"? Why or why not?
Wild West: ABSOLUTELY, NOT! Why? Does the guy down the street with the intact male Bullmastiff know anything about breeding beyond the physical act of it? Has that male Bully been screened for joint problems, thyroid problems, eye disorders? Does the owner know how to read a pedigree to see if the 2 dogs would produce quality get or just more dogs that may or may not end up in a rescue situation? Does the dog have it's DNA analysis? Has the dog been shown to prove his worthiness? Has the dog had yearly blood work to make sure the dog is healthy? Has the dog been checked for STD's? Is the stud owner willing to help the bitch owner find suitable homes for the pups? Can the stud owner assist with the delivery of those pups if the bitch owner is a "newbie"? Is the stud owner willing to show the offspring for the new owners? These are just the tip of the iceberg!
The stud dog owner is just as responsible for the offspring as the bitch owner is.
Therefore, if any of the pups that the stud dog produces ends up in rescue, the stud dog owner must help with the responsibility of that dogs care and new placement.
BullmastiffInfo.org: We are sure you get quite a lot of inquiries of Bullmastiff owners that request to stud service for their female Bullmastiffs – regardless of whether the Bullmastiff they own is of show quality or not. Is this stud service available to every inquiry? Why or why not?
Wild West: Our stud service is NOT available to every inquiry. If I feel that the offspring would not better the parents', or that there is a health issue or if the bitch has come from questionable origins, then no breeding will take place. We have been blessed with an incredible stud dog who reproduces himself in approximately 70% of his offspring! He has been bred to quality bitches and there is not a litter he has produced that I am not proud of!
BullmastiffInfo.org: For Bullmastiff owners with quality female Bullmastiffs, what should they expect from a quality stud dog? What recommendations do you have for locating a quality stud dog for their female Bullmastiff?
Wild West: First of all, whether she is a quality female or not, why do you want to breed her? If it is for money, forget it. (IF done right, you will never make a dime on it.) If it is so the kids can experience the magic of birth, go to the zoo! Most Bullmastiffs have to have C-sections. (This is a dangerous operation and you may lose the mother and her whelps.) If it is so you can keep one of the pups for a playmate for the momma dog, what will happen to the rest of the litter. Do you know how to screen people for proper homes?
If you are interested in producing pups that will improve the quality of the breed, then when you begin your search for a stud dog, you should first determine that your female is in the best health possible. Blood work, hip/elbow screening, eye exams, all will help make a decision to breed or not to breed. Then contact the breeder you got your female from. Most breeders have restrictions on who their dogs may or may not be bred to. Your breeder may know which lines to stay away from as they would not help produce better quality pups. Line breedings usually produce the best quality get. Outcrossing rarely produce quality. And if you want to breed to the #1 dog, because you think the pups will be worth more money, and more people will want them, then you'd better go back to the drawing board. Just because a dog's show performance puts him in the limelight, does not mean that he will produce the same or better quality as he is! Unless that #1 dog is a line breeding to your dog, then look elsewhere.
Once you locate the stud dog, make sure that he has all of his health clearances. Ask for written proof of these certifications. Then discuss with the stud owner your goals for the litter, i.e., if you want show homes, or just companion homes.
Also discuss whether or not they will be able to help you locate suitable homes for the pups. Don't cut corners, use the best dog available, that will compliment your female to produce outstanding pups. Breeding is NOT for the faint of heart. It is a full time job and if done properly it is very rewarding!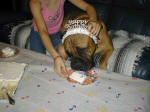 BullmastiffInfo.org: As with any other canine breed, the Bullmastiff is known to have a variety of health problems. When these problems arise, the adopting family is left with the cost of treating these health problems. Should the Bullmastiff Breeder they purchased the Bullmastiff from bear any responsibility as well? Or is this something that the Bullmastiff puppy buyer should already be aware that this is a "side effect" of owning a Bullmastiff and it will be their full responsibility to deal with any health issues that may arise?
Wild West: Depending on what the problem is and whether or not that problem is due to the negligence of the pup owner, or if it is a congenital problem. In 1999, my litter of 7 pups all left here in 100% healthy condition. At 3 months of age one of the girls had a severe reaction to her DA2P shot.. She got over it in a few days, but it left her immune system in a weakened condition. The following month she was seen for puppy vaginitis (lots of female pups get this). The vet treated her with an antibiotic that is not approved for use in dogs under 1 year of age. Her health declined rapidly and when the owner called to tell me what all had happened and the name of the antibiotic, I told her to stop using the drug right away. The poor pup had been throwing up and had diarrhea from the first dose. Now her liver was not functioning properly which was a side effect of the antibiotic. The owner then sought the care of a holistic vet and she herself began training in homeopathy. The dog started responding positively but has had several ups and downs. Were they from the immune system problem or from the antibiotic? This dog was just diagnosed with a low thyroid function. She is now on medication and is improving very rapidly. This has taken almost 1-1/2 years to sort out. Most of what happened I was not aware of until mid-2001, when things were not looking good for this girl. I told the owners that I would place a pup with them from a future litter when they were ready. They have that pup now and both dogs are doing great!
Many allergy, joint or digestive problems are not genetic, but environmentally caused. Be it from feeding an improper diet, over vaccinating, or from local flora and fauna or molds.
Some environmental factors could be: cleaning solutions used in the home and on the dogs bedding, feeding a low quality food that may contain allergens known to dogs, i.e., corn, soy or wheat, (the dog may develop itchy scaly skin, that may turn purulent and therefore need vet attention), or letting the pup fly off the couch or bed, jamming the joints, which may lead to joint problems.
Most breeders will work with their puppy owners, if they are kept apprised of the situation. If the owner decides to NOT listen to the breeder because they don't think the breeder knows what they are talking about, then what can you do. You need to trust your breeder. If you don't, then why did you buy a puppy from them in the first place? If a serious, life-threatening disease appears then most breeders will replace the dog with another one from a future litter.
Sometimes there are alternatives to allergy shots or anti-inflammatory drugs. A lot of breeders are moving towards homeopathy.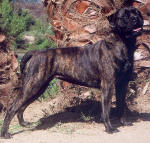 BullmastiffInfo.org: What future would you like to see happen with the Bullmastiff breed in general? Do you think it this future is reachable?
Wild West: The future of the Bullmastiff breed depends on the breeders! Breeders should place all pups that will not be shown on MUST spay/neuter contracts and utilize the AKC's limited registration. By doing this, you are preventing people from backyard breeding or selling their litters to pet stores or mass commercial kennels or research facilities. This breed is becoming more popular by the day. Puppy mills are cranking these pups out as fast as they can and the pet stores who sell them are charging up to $3,000.00 for a very poor quality dog.
I think that the future of our wonderful breed is in for some very difficult times. Disreputable people are buying these dogs and breeding them to their pitbull/lab crosses, to Rottweilers or worse, to Presa Canario crosses. What does this make? Mutts.
I also believe that it should be mandatory to microchip all pups before they can be AKC registered. This would mean that they would be able to be tracked back to the breeder if they turn up in the animal control or rescue an be held accountable for all expenses incurred at that point. All of our pups are microchipped. I MC my own pups now and just microchipped one of my stud dogs litters before they left for their new homes!
Closing Thoughts:
Wild West: We as breeders must protect the integrity of this wonderful breed. I think and hope that with the diligence of reputable breeders our breed will NOT go the direction of other breeds, such as the Rottweiler and German Shepherd.
AS a buyer, don't impulse buy. Yes that puppy in the window of the pet store is cute, but by buying that pup, you are lining the pockets of some of the largest puppy mills in the country. One puppy mill in central U.S., nets over $450,000 a year just from the sales of its pups. To get a quality dog from a reputable breeder, it may take up to a year or more. It will be well worth your wait. The breeder will want to help you and will want to stay in contact with you for the life of the dog.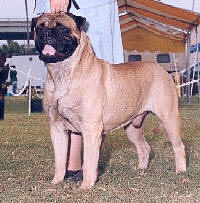 BullmastiffInfo.org: BullmastiffInfo.org would like to personally thank Wild West Bullmastiffs for taking the time to share their thoughts and experience with our readers! If you would like more information about Wild West Bullmastiffs from Tracy Ferrick, contact her at:
Wild West Bullmastiffs

Breeder Name(s):
Tracy Ferrick
Escondido, California USA
Website: www.bullmastiff.com
e-mail wildwest@bullmastiff.com
760-745-5756