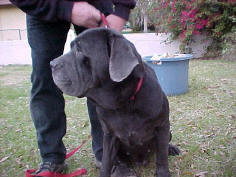 South Florida Puppymill Bust

South Florida's puppymill bust leaves Rescue groups hustling to save Bullmastiffs, Neapolitans, and many other Bull Breeds....
Bullmastiff Rescue Help

Neapolitan Rescue Help

Thank you for your contributions! The Bullmastiffs rescued from the raid have fully recovered and placed in loving homes. None of this would have been achieved without your generosity!

Thank you for your contributions! The Neapolitans are still looking for qualified homes and, in addition to the four (4) in custody, one of the Neos seized was pregnant and delivered six (6) pups. For more information, please contact:

Barron & Sue Seelig
c/o Mooch's Sunshine Rescue
11665 US Hway 301 N
Parrish, FL 34219
941-776-9824

---
February 19, 2002: Miami - Dade Animal Control confiscated a volume of Bullmastiffs, Neapolitans, and various other Bull Breeds in a raid to a backyard breeder's house in South Florida. As Bullmastiff Rescue and Neapolitan Rescue hustle to help claim these dogs, they are unprepared for the scene when they arrive...
The Bullmastiffs:
As they arrived at the scene of the veterinarian clinic the Bullmastiffs were immediately herded into the holding pens to await physical evaluation and food. The Bullmastiffs seem to be in fair condition although they are completely covered in ticks and fleas and starved. One male and five females were confiscated in the raid. However, Bullmastiff Rescue only received one male and four females. When asked about the missing female, Dade County Shelter replied that they "forgot" she was on reserve for Bullmastiff Rescue and adopted her out by accident. We hope she is well...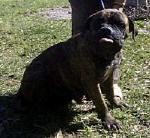 "This a great financial strain...we are wall-to-wall dogs," says Mickey Mullen of the American Bullmastiff Association Rescue Service - Florida Division. As well as having this raid, Florida Bullmastiff Rescue was already full from a multitude of owner surrenders. To top it off, these puppymill dogs are highly unsocialized. Three of the Bullmastiffs are reported to be dog aggressive. One Bullmastiff is recovering from just having puppies that were taken away from her too soon and is still holding milk. It is unreported as to what happened to the puppies she had.
Bullmastiff Rescue is in need of financial help to get these five Bullmastiffs the following:
Vaccinations

Spay/Neuter

Eye Exams (one Bullmastiff seems to have a severe eye infection that may require surgery)

Food and Vitamins

Boarding Facilities

Temperament Testing and Training

Transportation Costs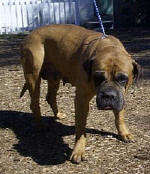 In the meantime, while their medical issues are being addressed with tight funds their health should be at 100% within a short amount of time. However, all of these Bullmastiffs are looking at a long road of emotional recovery. They lack the understanding of human companionship and are fearful of a hand's touch.
The Neapolitans:
As Sue Seelig nervously awaited her husband, Barron Seelig, to arrive back home in the Ryder truck they had to rent in order to pick up a group of the eleven (11) Neapolitans confiscated, she wondered where she was going to put all of these dogs and what the scene would look like.
She was not prepared for what she saw....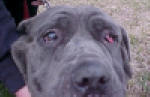 "These dogs are in sad, sad shape," says Sue as she gazes over the bodies sprawled out across the room.
"Right now we are looking at erlichia for all (doxycycline which is so hard to find now because of the anthrax scare....) :
Vet Bill yesterday

..........

$239
Doxycycline

..........$93

Cephalexin

..........$48

Cherry eye surgery
2 dogs/4 eyes @$50 each eye $200
Entropian bi-lateral
2 dogs/4 eyes $140 each eye $560
Spay/Neuter
right now 4 dogs @ $75 ea. $300
Panacure
purchased a bottle $107

"
"We are looking at an amount of $1500 worth of medical expenses at least, " says Sue Seelig. Mooch's Sunshine Rescue is harboring and bearing the cost for four (4) of the Neapolitans.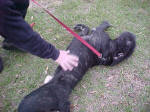 Apparently, the Neapolitans were kept in cages with multiple dogs that were too small to accommodate. Most of them are walking crouched close to the ground and sideways. They are also completely unsocialized and very wary of human interaction.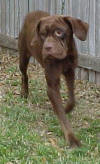 Medical expenses are a top priority at the moment. As their health improves, emphasis will continue on getting them to trust humans....something that they have never done before.