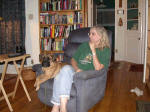 BullmastiffInfo.org: Tell us about your training facility and expertise.
Alpha Dog: My company is Alpha Dog Training in West Los Angeles. Mostly I do in-home training in the clients' home. I do a small amount of evaluations and training at my home. I run training classes for the city of Beverly Hills and for West Los Angeles Obedience Club. The most fun thing I do is my puppy program that consists of private training sessions, a weekly puppy play group, and a weekly city walk.
A large part of my practice deals with behavior problems, and I specialize in aggression problems.
BullmastiffInfo.org: Would you tell us about the training books you have written about the Bullmastiff?
Alpha Dog: Raising a Bullmastiff Puppy. This is an introduction to the breed and the importance of socializing your guard breed puppy. This booklet tells you the unvarnished truth about our breed, frontside and backside.
BullmastiffInfo.org: Why have you chosen to focus your training expertise specifically towards the Bullmastiff breed?
Alpha Dog: I love living with this breed. The bullmastiff is a great companion to hang out with and do things with. Training a bullmastiff is never straight forward. They hardly ever work like the books say, so it is a nice challenge for me as a professional trainer.
BullmastiffInfo.org: Please explain what the following titles mean: UD, BH, and WH.
Alpha Dog: UD = Utility Dog. This is the highest level of AKC obedience titles. The dog starts with a Companion Dog (CD), then advances to Companion Dog Excellent (CDX), and then to a UD.
BH = Begleitungshunde; a pre Schutzhund companion dog title that combines obedience with a temperament test.
WH - Wach-hunde - pre schutzhund Watch Dog title. Involves guarding objects and chasing agitators away.
BullmastiffInfo.org: When a family adopts a new Bullmastiff puppy, what steps should they take to ensure that they raise a well-adjusted Bullmastiff companion?
Alpha Dog: It helps to do some homework before getting a puppy. Find a good breeder, try to get the know the breeder's line. Find out about the temperament and personality of the bullmastiff and make sure this is what you want. Buy my book and find out more about the bullmastiff personality.
Once puppy arrives, start training. Use treats, and gentle guidance in the beginning. It is also important to socialize the puppy by exposing him to lots of people and environments. Use common sense to find safe places. This early socialization determines a large part of the adult personality and behaviors, and it has to take place during the critical period when the puppy is between 7-14 weeks in order to be effective.
BullmastiffInfo.org: The word "socialization" is commonly used in conjunction with proper ownership of a Bullmastiff. What does this mean? How would a typical owner accomplish this task?
Alpha Dog: Socialization means exposure to life at a critical period. The critical period is 7-14 weeks. My standard advise is to expose the puppy to 50-100 people each week, and 4-5 different places. Round up your friends. Go to the mall. Sit outside the Disney Store. Go to lines outside movie theaters. Start frequenting coffee places. Have puppy parties at home.
BullmastiffInfo.org: Would socializing a Bullmastiff make them less apt to perform their duties as a guard dog?
Alpha Dog: Totally on the contrary. The more socialized a guard breed dog is, the better will he/she do the guard duty later when the guard instinct kicks in. Early exposure to all kinds of people, animals, and situations teaches the pup all about the Good Stuff. Then when the guard instinct kicks in, the dog will automatically recognize Bad Guys, and Bad Stuff as different from Good Stuff. This makes the dog confident and safe.
An unsocialized mature bullmastiff is just plain dangerous. This dog will protect out of fear, and not discriminate. These are often the dogs that end up on Death Row.
BullmastiffInfo.org: The Bullmastiff is classified as a working breed primarily used for guarding. Would an owner need to teach their Bullmastiff how to perform as a guard dog? Why or why not?
Alpha Dog: Nope. The bullmastiff will guard no matter what. That is what the dog was bred to do. Their genetic behavior patterns for chasing, catching, biting, and damaging are not as inhibited as the ones for non-guard breed. It is up to the owner to put controls on the guard instinct by early socialization and obedience training. Breeders have to stop telling their puppy buyers not to teach the dog to sit. All bullmastiffs should learn to sit and to lie down on command early on, and a command for leave it. These are the controls, and the dog is plain dangerous without it.
BullmastiffInfo.org: What is schutzhund training?
Alpha Dog: Schutzhund is a competition sport. To get a Schutzhund title the dog competes in tracking, advanced obedience (off leash, includes retrieving and a one meter high jump), and a very stylized and strictly controlled type of protection exercises.
BullmastiffInfo.org: Under what circumstances would a Bullmastiff need to be schutzhund trained?
Alpha Dog:
Never. But it is great fun to compete with your bully in the sport, because it is an unusual breed. It is also extremely hard work to train a bullmastiff to competition level Schutzhund. It will truly show off the versatility and working ability of the dog.
Very few bullmastiffs could even do it. This is not a very sound breed. It takes a physically and mentally sound dog to even train for the title.